JHAL MURI - BHEL PURI, BANGLA-STYLE!
Jhal Muri is one of West Bengal's most famous street food snacks. It's an explosion of flavors, different tastes, and textures tossed together to make a mouthwatering delicious snack.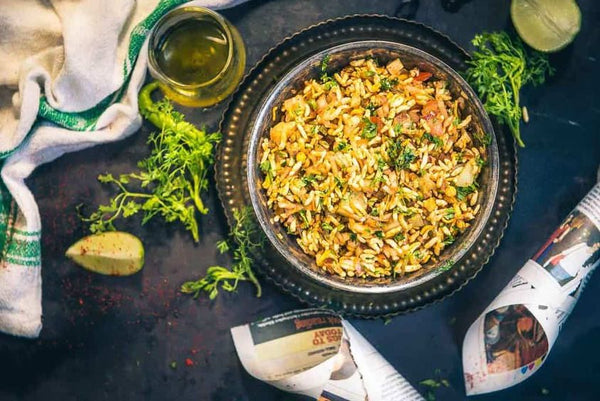 Print Recipe
https://www.alcofoods.com/blogs/snacks/jhal-muri-bhel-puri-bangla-style
Prep Time - 15 minutes

Cook Time - 1 minute

Total Time - 16 minutes

Servings - 4
Ingredients
2-½ cups - Puffed rice (i.e., muri, murmure, or pori)

1 large - Boiled potato (or about ½ a cup)

1 small - Onion (about 1/3 cup chopped finely)

1 medium - Finely chopped tomato (about 1/3 of a cup)

¼ cup - Finely chopped cucumber

2 - Chopped green chilies

3 tablespoons - Finely chopped coriander leaves

¼ teaspoon - Salt (or black salt), as required

½ teaspoon -

Alco red chilli powder

(use as needed)

1 teaspoon -

Alco Jeera powder

(cumin powder)

¾ teaspoon -

Alco Jhal Muri masala powder

(or

Alco chaat masala

or amchur)

¼ cup - Roasted peanuts (skinned)

¼ cup - Chanachur or sev or farsan

Lemon juice (as per preferences)

1 tablespoon - Mustard oil (or oil from pickle)
Method of Cooking
To make jhal muri, we need crisp puffed rice. If the puffed rice is not crispy, dry roast them in a pan for a few minutes. Set the puffed rice aside.

Boil the potato till it's just cooked. Cut it into cubes. Set them aside.

Dry roast peanuts. Remove their skin. Set these aside.

Chop the following: Tomatoes, Onions, Green chilies, and Coriander leaves.

To a mixing bowl, add the following: Tomatoes, Cucumber, Onions, Potatoes, Coriander leaves, and Green chilies.

Now, add the following: Salt,

Alco Red chili powder

,

Jeera powder

, and

Chaat masala

.

Squeeze the lemon. Stir the mix well.

Add peanuts and puffed rice.

Toss the entire mix.

You can add more puffed rice if the mixture is moist.

Add chanachur, or sev.

That's all! Serve jhal muri immediately.
Now, if you find the above cooking steps too daunting or are in a rush, don't worry. You can make equally (if not more!) delicious Jhal Muri with Alco's Jhal Muri Masala. It gives instant mouthwatering Jhal Muri without you breaking into a sweat working with all the above ingredients.
Besides Alco Jhal Muri Masala, Alco Foods offers a vast range of masalas and instant gravy mixes. Try our products, and your food will turn out to be next-level delicious!
Cooking Notes
Chanachur is a common farsan or mixture in Bengali-style. Instead of Chanachur, you can use any other crunchies you have at hand.

Jhal Muri masala is a spice powder used to make jhal muri. It usually consists of the following:
Coriander

Amchur

Cumin

Rock salt

Pepper etc.
You can buy top-quality Jhal Muri Masala, like Alco Jhal Muri Masala, at all supermarkets across India. If you don't have Jhal Muri Masala, substitute it with Alco Jeera powder an Alco chaat masala.
Nutrition Facts
Amount Per Serving
Calories: 138 | Calories from Fat: 72 | Fat: 8g | Saturated Fat 1g | Sodium 269mg | Potassium: 184mg | Carbohydrates: 13g | Fiber: 2g | Sugar: 1g | Protein: 3g | Vitamin A: 245IU | Vitamin C: 12.7mg | Calcium: 30mg | Iron: 3.6mg
FAQS on JHAL MURI RECIPE
Is there any difference between Jhal Muri and Bhel Puri?
What type of food is Jhal Muri?
Is Jhal Muri healthy for weight loss?
Can I eat jhal muri for breakfast?
Choosing a selection results in a full page refresh.