GARAM MASALA RECIPE- FACTS YOU SHOULD KNOW
Learn about the traditional Indian spice blend, Garam Masala, its history, ingredients, and how to make it at home with this comprehensive guide.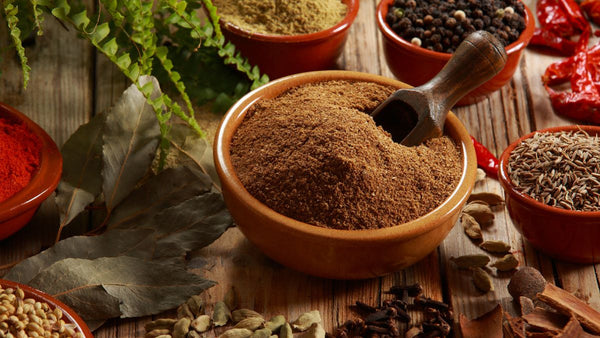 Print Recipe
https://www.alcofoods.com/blogs/recipe/garam-masala-recipe-facts-you-should-know
What Is Garam Masala Made Of?
To make Garam Masala, you will need the following set of ingredients-
Bay Leaves (Tej Patta) are used in rice and sweet preparations, and bay leaves are in Garam masala. It has a different smell to the mixture.
Black Cardamom (Badi Ilayachi) has a smoky essence to the Garam Masala. The flavor is spicy and has a higher intense taste than green cardamoms.
Black Peppercorns (Kali Mirch ke Daane)- For the spicy prick, black pepper provides a sharp zest to the light spices. Dry roasted peppercorns intensify the flavor to the next level.
Chili Powder (Mirch Powder) gives a reddish touch to the masala, the spicy percentage, and the heat.
Clove (Laung) is a spicy aromatic, caustic sweet, and sharp flavoring spice. It is a crucial ingredient in the Indian Garam Masala Recipe.
Coriander seeds (Khada Dhaniya) provide the masala citrus and floral flavor.
Cumin seeds (Khada Zeera) are a must-use spice in most Kashmir dishes. The nutty tang lifts the taste altogether.
Green Cardamom (Hari ya Chhoti Ilayachi) is known for its unique aroma. The smell is a mix of peppercorns, eucalyptus, and mint. It is not the seeds that are a part of the mixture but the green outer peel too.
Nutmeg (Jayphal) is grated and roasted to intensify the masala's flavor.
Salt (Namak) acts like breaking down the sugar share in the recipe. It gives a savory taste to the mixture.
Star Anise (Chakra Phool) gives a sweet, peppery, and hot flavor to the Garam Masala

Recipe.

The

Cinnamon Stick (Dalchini) is one of the more traditional spices for Garam masala. Cinnamon has a woody and sweet flavor to the masala. Of the two varieties available in the market, use Cassia.
Depending upon the variation you are looking for, you may add other spices, such as.
Fennel Seeds (Saunf)

Fenugreek

(Methi Dana)

Garlic (dehydrated)

(Lahsun)

Ginger (dehydrated)(Saunth)

Mace (Javitri)

Mustard Seeds

(Rai)

Saffron

(Kesar)

Tamarind

(Imli)

Turmeric

(Haldi)
How To Make Garam Masala?
Once you have the ingredients ready, it does not take much time to make Indian Garam Masala Recipe. Follow the succeeding steps to get your Garam Masala ready.
The foremost step of the Garam Masala

recipe is its cleaning and drying process. You must clean every spice well and dry it before they enter the roasting process.

Ensure you take a heavy pan to dry roast every spice (Khada Masala) until you can smell the herb's aroma. Stand near the flame to avoid over-roasting or burning.

When the roasting process is over, it is time for the spices to cool. You can spread a paper sheet, muslin sheet, or anything else to cool the spices.

The final step involves grinding all the spices together. Sieve the powder to allow the coarse particles to fall. You can then churn the crude articles to a more delicate powder.
Store the Garam Masala in an airtight container in a cool, dry, dark place (such as a pantry or spice cabinet). You can keep it for up to six months.
If you live in moist surroundings, store Garam Masala in the refrigerator.
If you want the masala to stay longer, wait to grind it until you can use it. Khada Garam Masala holds essential oils longer, making it taste fresh and aromatic.
Wrapping Up The Garam Masala
Garam Masala steals the show in every dish. Getting a perfect Garam Masala Recipe to guarantee your dish's flavor, aroma, and zing is a boon. It is imperative to keep a jar of Garam Masala or Garam Masala packet handy. Collecting and preparing all the ingredients may be challenging, as per Indian Garam Masala Recipe. Find your choicest masala at Alco Foods, where the world comes to shop for Indian masala.
Alco Foods has built its fame among the various Garam Masala name. The Garam Masala from the house of Alco has no preservatives or additives. Please make the most of Garam Masala and entice your family and friends with a feast they deserve.
FREQUENTLY ASKED QUESTIONS
Can We Eat Garam Masala Daily?
Is Garam Masala Good For Digestion?
Is Garam Masala Good For Cholesterol?
Is Garam Masala Anti-Inflammatory?
Is Garam Masala Ok For People With Diabetes?
Choosing a selection results in a full page refresh.