PANEER CHILLI - DIVINE FUSION OF TWO CULTURES!
 Chilli paneer is one of the best comfort foods whenever we crave Chinese food take-outs. Not only does the dish taste delicious, but the chilli paneer recipe also is simple.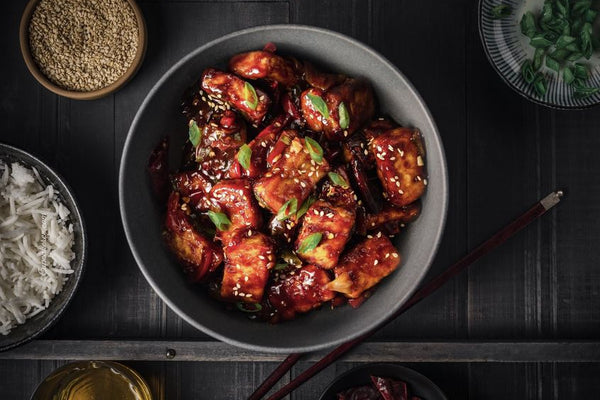 Print Recipe
https://www.alcofoods.com/blogs/recipe/indian-paneer-chili-mix
Prep Time - 10 mins

Cook Time - 15 mins

Total Time - 25 mins

Course - Appetizer, Main Course

Cuisine - Asian, Indian

Servings - 4

Calories - 515 kcal
Ingredients
For the Paneer Marinade
2 cups - Paneer cut into ¾-inch cubes

2 tbsps - Soy sauce

3 tbsps - Cornstarch
For Stir-Frying
3 tbsps - Oil (you'll need this in different stages of preparation)

1 tbsp - Ginger, finely chopped (around 1-inch pieces)

2 tsp - Garlic, finely chopped (2-3 cloves)

5-6 - Whole dried red chilies

1 cup - Onion (cut into 1-inch cubes with layers separated)

1 cup - Red or green bell pepper (cut into 1-inch pieces)

2 tbsps - Thinly sliced green tops of spring onions (for garnishing)
For the Sauce
2 tbsps - Dark soy sauce

1 tbsps - Vinegar

2 tbsps - Ketchup

1 tbsp - Chili garlic sauce

¼ tsp - Ground pepper

1 tsp - Oil

1 tbsp - Cornstarch
Cooking Instructions
Marinate the paneer first. Toss your paneer cubes in soy sauce.

Add cornstarch and toss till it forms a thin batter with the soy sauce. The sauce should coat the paneer pieces well.
For Stir-Frying
Heat a large skillet on medium-high heat

When the skillet becomes hot, add a tablespoon of oil.

Add the paneer pieces in a single layer. Don't add too many pieces and crowd them.

Let the paneer pieces brown for 2 minutes. Turn the cubes over using tongs. Brown them on the other side for 2 minutes.

Remove from pan and keep aside. Repeat the process with the remaining paneer cubes.

Heat the same skillet again. Now add the remaining tablespoon of oil. Also, add: Chopped ginger, Garlic and dried red chilies. Stir and sauté these for 1 minute.

Add onion and peppers. Sauté for 4-5 minutes, till the onions start turning brownish and transparent but are still firm.

Toss in the browned paneer pieces.
Completing with the sauce
Mix all the ingredients for the sauce till the cornstarch is well combined. Pour the sauce over the paneer, peppers, and onion slices. Stir till the sauce coats everything completely and starts thickening.

Turn off the heat when the consistency reaches your desired thickness (around 2-3 minutes).

Garnish with sliced green onions.

Serve warm with steamed rice or chowmein.
If you find the above cooking steps too daunting, or you're in a rush, don't worry. You can make equally (if not more!) delicious Paneer Chilli Masala with Alco's Paneer Chilli Gravy Mix. It gives instant mouthwatering paneer chilli gravy without you breaking into a sweat working with all the above ingredients.
Apart from Alco Paneer Chilli Gravy Mix, Alco Foods also offers you several other masalas and instant gravy mixes. Try our products and your food will turn out to be next level delicious!
FAQs on Paneer chilli Recipe
Who invented chilli paneer?
What is chilli paneer made of?
Is paneer chilli good for health?
Can we eat chilli paneer during weight loss?
Is chilli paneer junk food?
Choosing a selection results in a full page refresh.