THREE MUTTON RECIPES TO TRY IN 2023
Mutton Curry is a rich savory aromatic curry with juicy pieces of mutton. Mutton Curry was originally prepared by slow cooking the mutton and curry using an earthen pot and clay oven. Mutton Curry is best served with rice or naan.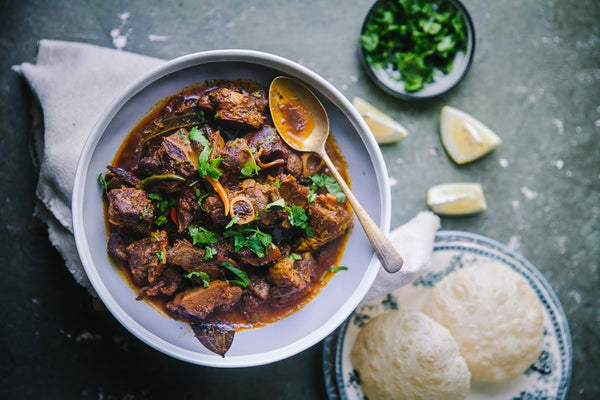 Print Recipe
Here Are Three Recipes To Make Your Meals A Delicious One
Mutton Curry
Mutton curry is a delicious and flavorful dish amongst mutton lovers. It's cooked with tender pieces of mutton cooked in a rich, aromatic sauce.
Ingredients
500g - Mutton

A packet of

Alco Mutton curry gravy

2 tbsp - Oil

Water as required

Chopped coriander leaves for garnish
Instructions
Keep the pressure cooker on medium heat with two tablespoons of oil.

Mix Alco mutton curry gravy with water and keep it aside.

Put the mutton pieces and allow them to cook.

Add the mixed Alco mutton curry gravy and stir.

Add enough water to cover the mutton pieces, and mix well.

Close the pressure cooker lid. Pressure cook for 8-10 whistles.

Once the pressure releases naturally, open the cover. You can simmer on low heat to get thicker gravy consistency.

Adjust salt as per taste.
In the end, use chopped coriander leaves for garnishing.
Mutton Rogan Josh
Mutton Rogan Josh is a signature dish of Kashmiri cuisine, known for its vibrant red color and rich flavors. Here the mutton recipe demands tender mutton pieces slow-cooked in a fragrant blend of spices, yogurt, and tomato puree. It results in a deliciously hearty and comforting dish.
Ingredients
Instructions
Keep the pressure cooker ready with oil on medium heat. Add the onions and fry them till they release their brown color.

Put the tomato puree in it. Add ginger-garlic paste and sauté for a minute. You will have to cook until the oil separates.

Add

cumin powder

,

coriander powder

, fennel powder,

Kashmiri red chili powder

,

turmeric powder

, and salt. Let it cook.

Put the mutton pieces. Allow it to cook.

Add water as needed, cover the pan, and simmer until the mutton cooks and becomes tender, stirring occasionally. The cooking will take from a quarter-hour to an hour.

It is time to add the garam masala powder when the mutton is cooked.

Finally, add yogurt and mix well. Simmer for a few minutes until the curry comes to a boil.

Chop cilantro/coriander leaves and garnish them.
Your mutton recipe is ready.
Mutton Handi
Mutton Handi is a famous North Indian dish. It is slow-cooked to perfection in a clay pot. The aromatic and flavorful dish requires succulent mutton pieces, a blend of spices, and yogurt. Here's how to make this mutton recipe:
Ingredients
1 kg - Mutton, cut into small pieces

2 tbsp - Ginger-garlic paste

1 cup - Yogurt

2 tbsp - Oil

2 - Onions, finely chopped

2 - Tomatoes, pureed

2 - Green chilies, slit

1 tbsp -

Alco coriander powder

1 tsp - Alco cumin powder

1 tsp -

Alco Garam masala

1 tsp -

Alco turmeric powder

Salt to taste

Fresh coriander leaves for garnish
Instructions
In a mixing bowl, marinate the mutton pieces with ginger-garlic paste and yogurt for at least an hour.

In a heavy-bottomed pot or handi, heat oil over medium heat.

Add onions and sauté until golden brown.

Add the marinated mutton and cook for 10-15 minutes until it turns brown.

Add tomato puree, green chilies, and spices. Mix well and cook for 10-15 minutes until the oil separates.

Add enough water to cover the mutton pieces, cover the pot, and simmer on low heat for 1-2 hours until the mutton is tender. Wait for the gravy to thicken.
Take chopped fresh coriander leaves and garnish them.
Summing Up on Mutton Recipes
There are many mutton recipes in restaurants that offer high-quality cuts of meat. Not only can you control the meat quality, but you can also customize the spices and flavors to your liking. Nothing beats the taste and satisfaction of a homemade mutton recipe.
Additionally, making mutton at home can be a fun and rewarding experience, especially when cooking for family and friends. Many different mutton recipes range from classic Mutton Rogan Josh and Mutton Handi to more innovative and creative dishes.
When you visit your local mutton shop, there is demand for rich brown color mutton. You can ask for shank pieces and make mutton at home. The key is to enjoy the flavors and savor the experience of this delicious meat. So, fire up your stove, gather your ingredients, and get ready to savor mutton's rich and delectable taste in your favorite recipes.
Make sure to check back often for more tasty recipes! And don't forget to explore Alco Foods' selection of high-quality spice mixes, instant gravy premixes, ground masala, and cashews.
FAQs on Mutton Recipes
What Is Chusta In Mutton?
How Much Protein Is In Mutton?
What Kind Of Meat Is Mutton?
Is Goat Meat Called Mutton?
Is Goat Better Than Chicken?
Choosing a selection results in a full page refresh.