MALAI KOFTA - A MELTING DELICACY
Discover the delicious Malai Kofta, a dish made of fried balls of potato and paneer in a mild, creamy gravy with sweet onions and tomatoes. Learn more about this delightful cuisine here.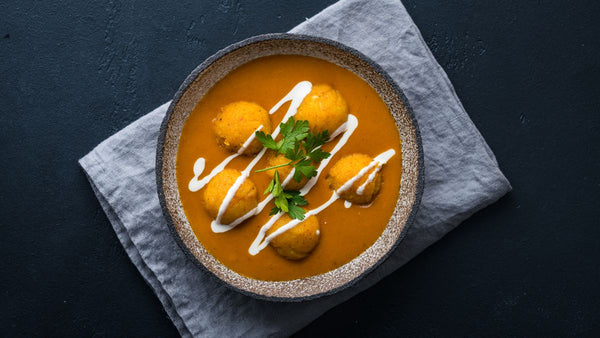 Print Recipe
https://www.alcofoods.com/blogs/recipe/malai-kofta-a-melting-delicacy
Type - Lunch/Dinner

Serve - 2

Preparation time - 20 mins

Cooking time - 40 mins
Ingredients for Malai Kofta Recipe
Kofta Ingredients
3 - Boiled and Mashed Potatoes

1 Cup - Grated Paneer

2 tbsp - Corn Flour

8-9 - Cashews broken

1 tsp -

Alco Garam Masala

Salt to taste
Gravy Ingredients
How to Prepare Malai Kofta Curry at Home?
How to Make Kofta?
Combine grated paneer, mashed potatoes, corn flour, garam masala,

cashews

, and salt in a bowl.

Using your hands, mix the ingredients thoroughly until it forms a cohesive dough.

To prepare, divide the mixture into 6-7 even portions and form them into smooth, circular balls.

Heat oil in a kadai or pan over medium heat to deep fry the koftas. Once the oil is hot, carefully add the shaped balls into it.

It's essential to move the items occasionally to ensure even browning on all sides. Once they have achieved a golden brown color, use a slotted spatula to remove them from the pan and place them on a plate lined with a paper towel.
To prepare the kofta using the No-Deep Fry Method
Start by heating the Appe pan on medium heat.

Put a teaspoon of oil in each section and wait for it to heat up.

Place the stuffed ball-shaped kofta on the pan.

Once the bottom side turns golden brown, flip them over and cook the other side.

If necessary, add a few more drops of oil.

Fry all sides until they achieve a uniform golden brown color.

Once done, remove them from the pan and place them on a plate.
Expert Tips for Making Kofta
To prevent kofta from falling apart while frying or being added to the gravy, it's essential to avoid over-boiling the potato. Over-cooked potatoes can have too much moisture, resulting in super soft kofta.

The texture of kofta is determined by the amount of cornflour added. Adding more than recommended will make the koftas too firm and dense. On the other hand, adding too little or no cornflour will result in highly soft koftas on the inside and may become mushy when added to the gravy.
How to Make Red Malai Kofta Curry?
On medium heat, heat some butter in a pan. Wait for the butter to melt.

Add a bay leaf, two cloves, and two cardamoms

Open the pack of Alco Veg Kofta Curry.

Empty its contents into a bowl.

Add water, make a slurry gravy.

Add the Alco Veg Kofta Curry mix to the pan.

Add Alco Red Chilli Powder

Let it simmer for 3-4 mins.

Sprinkle the crushed dried Kasoori Methi.

Add salt as per taste.
The Red Malai Kofta Gravy is ready. The easy and no-hassle Malai Kofta is ready to serve. To ensure the best taste and texture, adding the koftas to the gravy is recommended before serving. Adding them earlier may cause them to become soft and fall apart; therefore, if you plan to serve the dish later, waiting to add the koftas until just before serving is best. Once added, turn off the stove and serve the malai kofta immediately.
Malai Kofta Serving Ideas
You can pair malai kofta with either garlic naan or lachha paratha for a delicious meal. To complement the dish, consider serving it with laccha onion and salted lassi on the side. Plain basmati or jeera rice will be a good choice if you prefer a lighter option. Keep in mind that malai kofta curry is quite filling on its own.
Summing Up on Malai Kofta
Did you like Alco's version of Malai Kofta Recipe? Do share this recipe with your friends and family. Keep coming to this place for more easy and healthy recipes. Alco Foods uses Cashews and Muskmelon seeds to prepare its gravy base. We do not use any preservatives and additives. Our products are Non-GMO, Keto, and Paleo Friendly. Explore our website to get the best and pure ground spices, Masala Mixes, Gravy Premixes and Flavored Cashews.
FAQS ON MALAI KOFTA RECIPE
Which country's food is kofta?
What is the English name for malai kofta?
What is malai kofta made of?
What are the best side dishes for Indian Rice bowls?
Choosing a selection results in a full page refresh.