WHY IS PAV BHAJI SUCH A POPULAR DISH?
A famous recipe to do wonders on your palate is pav bhaji. It is melted with butter with loads of vegetables filled with flavors and aromas. Let's learn more about this delicious dish.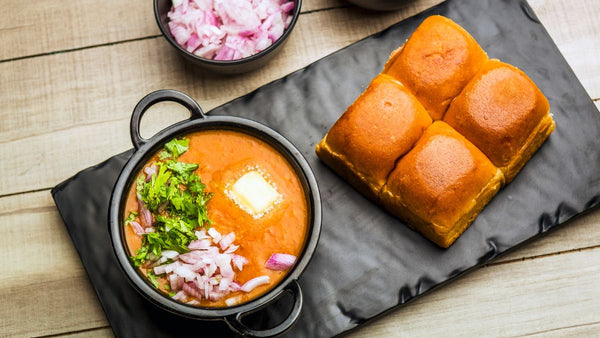 Print Recipe
https://www.alcofoods.com/blogs/recipe/why-is-pav-bhaji-such-a-popular-dish
How to Make Pav bhaji
Serves - 4

Preparation Time - 10 Minutes

Cooking Time - 25 Minutes
Ingredients
For making bhaji
1 - Medium size cauliflower florets

2 - Capsicum (chopped)

1-inch - Ginger slice

4-5 - Garlic

2 Cups - Water

6-7 - Medium potatoes

2 - Carrots

1 Cup - Green peas

4 Tbsp - Butter

To Taste - Salt
For Cooking
1 1/2 Cups - Chopped onions

2 Cups - Chopped tomatoes

2-3 - Chopped Green chilies

3 Tbsp - Butter

1/2 Cup - Oil

1 Tbsp - Ginger garlic paste

To Taste - Salt

1/2 Cup - Tomato puree

1 - Chopped capsicum

1 Tbsp -

Alco food's Red chili powder

2 Tbsp -

Alco food's Mumbai pav bhaji masala

1/2 Tsp - Sugar

1 Tbsp - Coriander leaves

Boiled & mashed vegetables

Water
For Toasting
For Garnishing
1/2 Cup - Onion rings

Lemon wedges

Butter Pav

Coriander leaves
Step By Step Instructions
For Making Bhaji
Add capsicum, cauliflower florets, ginger, garlic, water, potato, carrot, green peas, salt, and butter in a pressure cooker and cook until they become soft.

Now mash properly with a potato masher and keep it aside.
For Tempering
Heat butter in a heavy-bottomed pan, and add onion, then cook until pinkish-brown.

Add ginger-garlic paste, tomatoes, green chilies, and salt, and cook till soft.

Add freshly prepared tomato puree and cook for 8-10 minutes.

Now add capsicum, and cook for a few minutes.

Now keep 3 tbsp of masala aside for use in later stages.

Add Alco red chili powder, butter, and Alco Mumbai pav bhaji masala and mix for a minute.

Add boiled and mashed vegetables, water, sugar, and butter, and cook for another 4-5 minutes.

Add and garnish with coriander leaves and turn off the heat.

Serve with toasted pav, onion rings, lemon wedges, and coriander leaves.
For Toasting and Masala pav
Add butter to a hot pan, toast the pav from both sides, and keep aside.

For making masala pav, add butter and the masala prepared and kept aside in the above process, coat the toasted pav from both sides.

Serve with deliciously made bhaji.
Pro Tips for Making Pav bhaji
Cook the vegetables in a pressure cooker or steamer pan.

The pav bhaji's taste depends on the vegetables used to make it. The number of carrots is responsible for the red color of the bhaji, and capsicum adds the perfect flavor.

The quantity of spices used to prepare pav bhaji masala is essential because they add a spicy and tangy flavor.

Try using good quality pav bhaji masala like

Alco food's Mumbai pav bhaji masala

in perfect quantity. This pav bhaji masala price is reasonable so you can get it quickly.

You can use peanut butter instead of regular butter or ghee.
Summing Up on Pav bhaji
Pav bhaji is a street food that comes from Mumbai's streets. Without much time and effort, pav bhaji can be prepared easily with lots of vegetables and pav. It is a satisfying street food that you can have any time.
Pav bhaji masala's history started with the textile mill workers when they wanted light meals instead of heavy lunches to work efficiently. Their requirement for light snacks led to the development of this buttery pav bhaji.
The recipe for pav bhaji is not only a single one but depends upon the requirement of people. It has many variations, and you can customize it according to your preference, like cheese pav bhaji, peanut butter pav bhaji, etc.
Alco foods Mumbai pav bhaji masala can be your companion when you consider making pav bhaji at home. You will get authentic Mumbai street taste in your recipe without going there. A tablespoon of this masala is sure to leave your tastebuds wanting more.
FREQUENTLY ASKED QUESTIONS
Why is Pav bhaji masala famous?
Who invented Pav bhaji as a street food?
Can we prepare Mumbai-style pav bhaji at home?
How to get a vibrant red color of authentic pav bhaji?
Choosing a selection results in a full page refresh.