THE MAGIC OF CHICKEN KORMA
Korma is one of the most famous and appreciated Indian curries worldwide. This mouthwatering Chicken Korma is composed of meat or vegetables braised with yogurt or cream.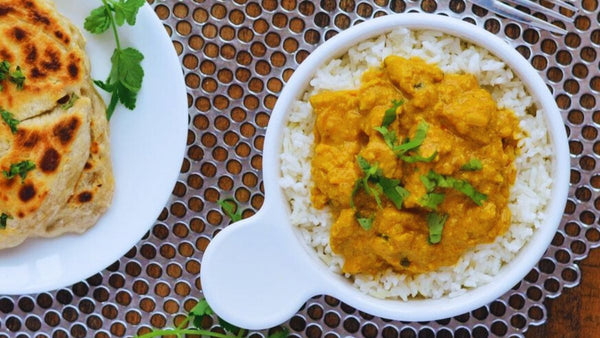 Print Recipe
https://www.alcofoods.com/blogs/recipe/the-magic-of-chicken-korma
Ingredients
For the marinade
1.5 kg - Chicken thighs (boneless and skinless)

2 tbsp - Vegetable oil

2 tbsp -

Alco garam masala

2 tsp -

Alco curry masala

2 cloves - Garlic, pressed.

½ tsp - Salt

½ tsp - Black pepper (freshly ground)
For the sauce
3 - White onions peeled and quartered.

6 cloves - garlic, peeled.

4 tsp - Alco curry powder

1 tsp - Ground turmeric (or

Alco Turmeric Powder

)

1 tsp - Cumin

1 tsp -

Alco garam masala

¼ tsp - Ground cardamom

1 tsp - Salt

1 tsp - Black pepper

½ tsp - Ground coriander (or

Alco Coriander Powder

)

½ tsp - Cinnamon

⅛ tsp - Freshly grated nutmeg

3 tbsp - Vegetable oil

3 large - Tomatoes (peeled and cut into small cubes)

1 tbsp - Freshly grated ginger root

40 gram - Ground almonds

1 cup - Unsweetened coconut milk

1 cup - Yogurt (dahi)

1 cup - Cold water

½ - Red hot pepper (seeded and chopped)

1 tbsp - Brown sugar
Instructions
For the Marinade
Drizzle oil over the chicken. Sprinkle it with the following spices:
Garam masala

Curry powder

Garlic

Salt and pepper
Mix by hand by massaging the chicken.

Cover with plastic wrap.

Marinate for 8 hours in the refrigerator.
For the Chicken
Take a grill pan. Heat it over medium to high heat.

Grill the chicken (along with its marinade) for 5 to 6 minutes on each side. Continue till it gets cooked through.

Set aside.
For the Sauce
Mix all the spices in a bowl.

Put the onions and cold water in a blender. Blend them into a smooth purée.

Heat the olive oil on medium heat in a large pot.

Add the mashed onion mixture now. Cook for 3 minutes. Keep constantly stirring till it starts to darken.

Add the following:
Tomatoes

Ginger

Ground almonds

Coconut milk

Yogurt

Red pepper

Spices and

Brown sugar
Mix the above ingredients well.
Reduce the heat. Cover the dish. Keep it on simmer over low heat for 30 minutes.

Cut the chicken into small pieces. Add it to the stewpot.

Simmer for an additional 15 minutes.

Serve with steamed white rice or naan.
FAQs on Chicken Curry Recipe
Where did Chicken Korma originate from?
Who invented Chicken Korma?
How did Korma get its name?
How many types of Korma are there?
Choosing a selection results in a full page refresh.