SHAHI PANEER - ROYAL RECIPE IN 15 MINS
Luxurious, rich, and flavorful are the words that come to mind when we think of shahi paneer. Velvety smooth sauce, delicate paneer cubes, and a ton of flavor make this dish a royal delicacy. Serve with butter naan or rice for a finger-licking, nutritious meal.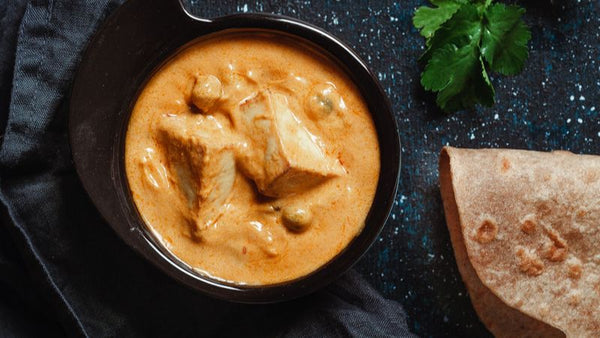 Print Recipe
How to make Shahi Paneer at home
Can you make this recipe in like 15 minutes? Alco has made it possible for you. Alco foods Instant Shahi Paneer Gravy Mix that will get you a Restaurant like shahi Paneer in 15 minutes! It tastes the same, and you'll skip the hard work!
Course - Main dish

Cuisine - Indian/ North Indian

Prep Time - 10 mins

Cooking Time - 20-25 mins

Serves - 5-6 people
Shahi Paneer made it easy with Alco Foods
Ingredients
3 cups Water

2 cups Cubed Paneer

1/2 tsp Salt

1/2 tsp Pepper

1/3 tbsp Butter

2 tbsp Heavy Whipping Cream
Preparation
1. Season paneer with salt and pepper.
2. Add the Alco foods Shahi Paneer Gravy to a bowl and mix thoroughly with water to create the gravy.
Cooking
1. Melt butter in a pan.
2. Add gravy and bring to a rapid simmer on med/high heat. Stir regularly: 2-3 min.
3. Add seasoned Paneer to the pan. Continue simmering until gravy thickens to desired consistency: 8-10 min. Stir to avoid burning.
4. Remove from heat and drizzle in the cream. Let sit: 3 min.
5. Enjoy!
Health benefits of Shahi Paneer
Paneer typically has 20 grams of fat, 20 grams of protein, and less than 2 grams of carbohydrate per 100 grams. For a high-protein diet, it can be the best option besides meat. It has numerous Health Benefits, such as:
DISCLAIMER- This blog does not provide you with any medical advice. It is strictly meant to be an informational and recipe blog only. Please consult your physician or medical expert for what works best for you.
May lower the risk of breast cancer - The prevalence of cancer is high, and the rate of breast cancer in women is rising alarmingly (especially in unmarried and pre-menopausal women). Paneer contains calcium and vitamin D, which may help reduce the risk of breast cancer.
Helps in Weight loss- Good news for all you workout addicts! Paneer may aid in weight loss since it contains protein, which keeps you full for a long time and prevents you from overeating. Furthermore, it has a fatty acid that may aid in fat burning.
Ensures a Healthy Digestive System - It contains phosphorus that may aid in easy elimination and digestion, and magnesium prevents constipation since it has a laxative effect. So, Paneer may aid in a happy tummy.
Beneficial for Diabetics! - Diabetic? But don't worry because you can have Paneer! The magnesium in Paneer may help control and maintain blood sugar levels and may enhance the immune system, heart health, and heart. Also, the protein in Paneer may avoid sharp rises and falls in blood sugar levels.
Strengthens the bones and teeth - Calcium builds bones and teeth, and Paneer is high in calcium. Aside from this, calcium intake may support healthy cardiac muscles and a smooth functioning neural system.
Summing up with Shahi Paneer
The shahi paneer sauce is an excellent delicacy. Even though you can cook shahi paneer using everyday pantry ingredients, this particular dish is genuinely shahi because of the thick gravy, luscious Paneer, and unique flavors. Serve over butter naan, roti, or rice for a delightfully filling meal you won't forget!
FAQs on Shahi Paneer Recipe
Can we store shahi paneer in the refrigerator?
You may also prepare the Shahi Paneer ahead of time and refrigerate it. You can keep it for 3–4 days in the refrigerator. The cooked Paneer can harden after cooling. Therefore, we strongly advise serving this appetizer fresh after cooking.
Is Shahi Paneer suitable for healthy people?
Yes, this recipe is nutritious. The fat content is slightly higher, but it is good fats. Good fats keep you satiated for a more extended period.
How do you keep Paneer from breaking while pan-frying?
The Paneer will get overly mushy and shatter when used in your dish if you soak it in warm water for an extended period. So find a balance and give your Paneer no more than 5 minutes in warm water to become softer. A critical piece of advice is to keep your Paneer covered in the refrigerator.
Does Shahi Paneer help you lose weight?
Shahi Paneer, a fantastic source of calcium and protein, is a healthy diet meal prepared with minimal oil. It promotes muscle growth and is an excellent diet for bodybuilding.
How is Paneer softened for gravy?
Let the fried paneer soak in warm, gently salted water for 10 to 15 minutes. When soft, squeeze the paneer cubes to remove extra moisture before serving.
Choosing a selection results in a full page refresh.