PANI PURI - THE KING OF CHAATS!
When it comes to street foods in India, pani puri stands at the top for most of us. Wherever you go, Pani Puri is called the king of Indian street foods.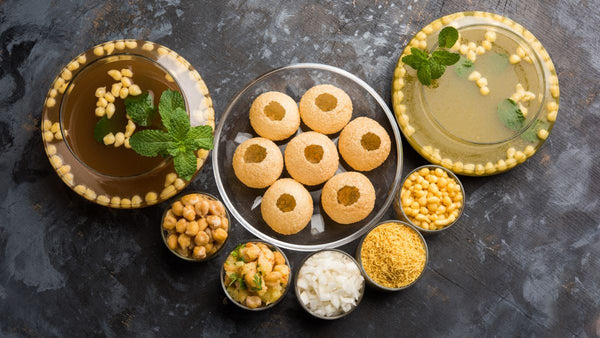 Print Recipe
https://www.alcofoods.com/blogs/recipe/pani-puri-the-king-of-chaats
Ingredients
For Pani Puri Stuffing
2 or 3 - Medium-sized potatoes

1- Small to medium-sized onion (optional)

1 to 1-½ tbsp - Chopped coriander leaves (cilantro)

1 tbsp -

Alco cumin powder

¼ tsp -

Alco red chili powder

(optional)

Black salt (or regular salt), as required
For Pani
½ Cup - Chopped mint leaves – tightly packed,

1 Cup - Chopped coriander leaves – tightly packed (cilantro)

1 inch - Chopped ginger

2 or 3 - Chopped green chilies (for less spicy pani, add one green chili)

1 tbsp - Tamarind (tightly packed)

4 tbsp - Jaggery powder (or grated/chopped jaggery or sugar), as required

1 tsp - Alco cumin powder

⅓ Cup - Water for blending

1 to 1-¼ Cups - Water to be added later (add water as per the consistency you prefer)

1 to 1-½ tbsp - Boondi (fried tiny gram flour balls) – optional

Black salt (or regular salt), as required
For Puri
1 Cup - Semolina (suji)

1/4 cup - All-purpose flour (maida)

1/4 tsp - Baking soda

1/4 tsp - Salt

Oil for deep frying
Other Ingredients
One small bowl Tamarind Chutney or tamarind and dates chutney (optional)
Instruction
For making the Pani Puri Stuffing
Boil the potatoes till they are cooked completely.

Peel them and then chop them.

Finely chop the onion if using it.

Mix the potatoes, onions, coriander leaves, cumin powder,

chaat masala powder

, black salt, or regular salt in a small bowl. Mix well and keep aside.
For making Teekha Pani (Spiced Water)
Add all the ingredients mentioned above for the spiced water in a blender.

Add water. Grind to a fine chutney.

Put the green chutney into a large bowl. Rinse the mixer jar with half a cup of water first. Add this water to the bowl. Then add ½ to ¾ cup more water.

Mix well. Check the seasoning. Add more salt, jeera powder, Alco kolkata Pani Puri Masala, or jaggery, if needed.

If you want a thinner pani, add some water. Add seasoning as per your taste.

Add the boondi to the pani.
You can chill the spiced water in the fridge. You can also add some ice cubes to it.
For Making the Puri
In a mixing bowl, combine the semolina, all-purpose flour, baking soda, and salt.

Add water little by little and knead the dough until it's smooth and firm.

Cover the dough and let it rest for 30 minutes.

After 30 minutes, knead the dough again and divide it into small portions.

Roll each portion into a thin circle, around 2-3 inches in diameter.

Heat oil in a deep frying pan and fry the circles until they turn golden brown and puffy.

Remove from the oil and place on a paper towel to remove excess oil.

Store the puri in an airtight container until ready to use.
Eating the Pani Puri
Gently crack open the top of the puri with a spoon.

Stuff two to three teaspoons of the boiled potato-onion filling in the puri.

Stir the green pani first. Add it to the puri. You can also add some sweet chutney to the puri.

Serve the pani puri immediately (Else, the puri with water and stuffing will become soggy).
Pani Puri is one of those chaat foods you can enjoy at any time of the day and satisfy your cravings without any guilt or remorse! It is also healthier when compared to other street food. The count of Pani puri calories is around 329 per serving. So, you don't need to fret about adding pounds to your waist. The chaat is also very affordable. You can binge on it all you want, alone or with friends. So, to say that it's India's best comfort food will probably be an understatement. When you have a Pani Puri in your mouth, everything will feel right with the world for those few seconds.
FAQs on Pani Puri Recipe
What is the story behind pani puri?
Why is Panipuri so famous?
Why is pani puri so tasty?
When was pani puri invented in India?
What is pani puri water made of?
Choosing a selection results in a full page refresh.