JAL JEERA - INDIA'S TASTIEST AND HEALTHIEST WELCOME DRINK
Jal Jeera is the most loved and healthy summer drink in India. It is very refreshing and rejuvenates you with an instant burst of energy.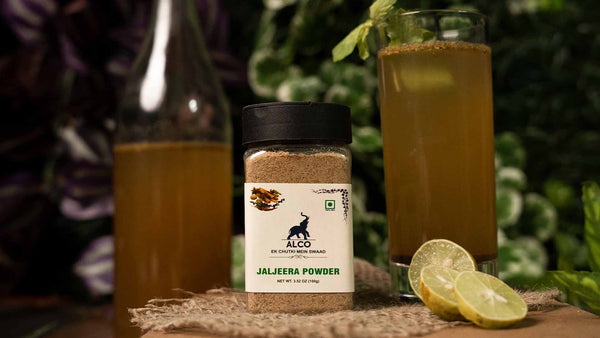 Print Recipe
https://www.alcofoods.com/blogs/recipe/jal-jeera-indias-tastiest-and-healthiest-welcome-drink
How to make Jal Jeera at home?
This is a simple jaljeera recipe to make yourself a glass of delicious Jal jeera at home:
Prep Time - 10 mins

Cook Time - 10 mins

Course - Refreshing Indian Drink

Cuisine - Indian

Servings - 4 people

Calories - 35 kcal
Ingredients
Bunch of Mint leaves

¾ cup - Coriander leaves

½ tsp - grated Ginger

2-½ tbsp - Lemon juice

3 tsp - Cumin seeds (powdered and dry roasted)

½ tsp - Black Salt

1 tsp - Mango powder (Amchur Dried)

2 tsp - Sugar

½ tsp - Black pepper powder

1 pinch - Asafetida (Hing)

½ cup - Boondi

4 glass - Chilled water

½ tsp - Salt
Instructions
In a pan, dry-roast the hing (asafetida) till they turn fragrant. Allow it to cool.

In a blender, grind the following: Roasted asafetida, Mint, Ginger and Coriander. Grind them with little water to a paste.

Take four glasses of chilled water in a pitcher. Add the blended paste along with the following: Black Salt, Rock Salt, Table Salt, Mango powder, Sugar and

Cumin powder

.

Now add lemon juice and stir well. Pass it through a strainer to remove the thick leftovers.

Garnish with boondi and some mint leaves. You can also garnish it with lemon wedges to make it look beautiful.

Serve Chilled!
You can use Alco Food's Jal Jeera Masala powder to make mouthwatering Jal Jeera instantly, if you're in a hurry, and don't have the time to work through all of the above ingredients, steps, and procedures.
Jaljeera is one drink often made at homes across North India, not just in summer but throughout the year. Most people usually have it after dinner. Many households prepare jaljeera powder and store it for the entire summer. In India, it's usually given to people returning home after work. It's typically served chilled to both residents and even guests at times.
FAQS ON JAL JEERA
Why do people drink Jaljeera?
Can you drink Jaljeera every day?
What is Jaljeera powder made of?
Is Jaljeera a rich source of iron?
Is jeera water good or bad for the liver?
Choosing a selection results in a full page refresh.