ALOO DUM - THE POTATO LOVER'S DREAM
No matter which variation you prefer Dum aloo, with its bite-sized pieces of potato and aromatic sauce is ideal for a light meal, snack, or starter.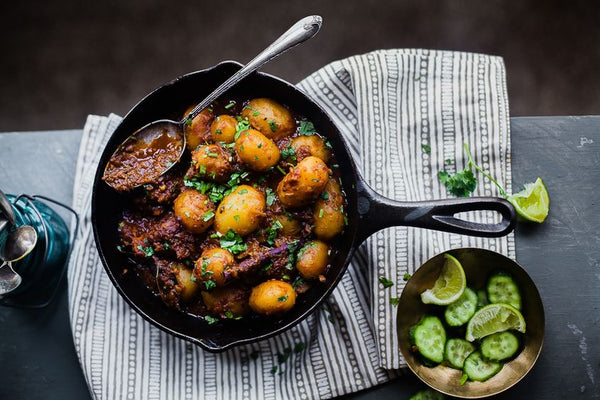 Print Recipe
https://www.alcofoods.com/blogs/recipe/indian-aloo-dum-gravy-recipe-1
Method of cooking Dum Aloo
Prep Time - 15 mins

Cook Time - 45 mins

Total Time - 1 hour

Course - Main Course

Cuisine - Indian

Servings - 4

Calories - 364 kcal
Ingredients
For the Spice Mix
1 tablespoon - Coriander seeds

½ teaspoon - Cumin seeds divided

½ teaspoon - Fennel seeds

4 - Green cardamom

2 - Cloves

1-inch - Cinnamon stick
For the Curry
500 grams - Baby potatoes/14 baby potatoes

4 tablespoons + 2 teaspoons - Mustard oil (divided)

1 large - Roughly chopped red onion

4-5 large - Roughly chopped garlic cloves

1.5-inch - Roughly chopped ginger

1 - Green chili

10 - Cashews raw, unsalted

1 teaspoon - Cumin seeds

½ teaspoon - Hing

1 - Bay leaf

1.5 teaspoon -

Alco kashmiri red chili powder

¼ teaspoon - Black pepper powder

1 cup - Yogurt 240 grams

¾ to 1 teaspoon - Salt (adjust to taste)

½ teaspoon -

Alco Turmeric Powder

1 cup - Water (or as needed for the consistency of gravy you prefer)

1-2 tablespoons - Heavy cream

1 teaspoon - Sugar

¼ teaspoon -

Alco Garam Masala

1 tablespoon - Kasuri methi

Coriander to garnish
Cooking Instructions
Boil the baby potatoes in a pot of water on medium-high heat. When the water boils entirely, turn off the heat. Cover the pan with a plate and let it remain for 15 minutes. This will cook the potatoes perfectly without them getting overcooked.

Drain all the water using a strainer. Wash the potatoes under cold water. Now peel the potatoes.

Use a toothpick to prick your baby potatoes everywhere. Set them aside.

Take the following: One tablespoon

Alco Coriander Powder

, ½ teaspoon cumin seeds, ½ teaspoon fennel seeds, Four green cardamoms, Two cloves and A 1-inch cinnamon stick.

Roast and grind the above spices into a small pan on medium heat (about 2 to 3 minutes) till they turn fragrant. Be careful not to burn them.

Let the spices cool down a bit. Move them to a spice grinder and grind them to a fine powder. Set this aside.

Heat 2 tablespoons of mustard oil in a pan. Please ensure the mustard oil is well heated before adding anything. Otherwise, it'll have a raw-ish taste.

Once the oil is hot, add the following: Ginger, Garlic and Green chilies. Cook for 1 minute.

Add in the onions and cashews. Cook for 3 to 4 minutes till the onions soften.

Turn off the heat, transfer the mixture to a blender, and blend to a fine paste. Set it aside.

Heat around 4 tbsp mustard oil in a kadhai on medium heat. Add the boiled baby potatoes and fry them till they all turn golden brown from all sides.

Remove the fried potatoes once they're golden brown. Put them on a plate. Once they cool down somewhat, prick them again with a toothpick.

Now, add: One tablespoon of cumin seeds and One bay leaf into the same oil. Sauté for a few seconds and then add ½ teaspoon asafetida (i.e., Hing).

Add one tablespoon of Alco Kashmiri Red Chili Powder. Fry for a few seconds so that it gets a nice red color.

Add the already-prepared cashew-onion paste and mix well. Cook for 2 minutes.

Now, mix the ground spices (from Step #6) and ¼ tablespoon of black pepper. Cook for a minute.

Take the pan off the heat and add the whisked yogurt to the pan.

Keep stirring the yogurt continuously as you gradually mix it with the curry.

Put the pan back on medium heat and continue stirring. Let the mixture come to a light boil. Keep cooking for another 3 to 4 minutes.

Add salt, remaining ½ tablespoon of Alco Kashmiri Red Chili Powder, and

Alco turmeric powder

.

Cook for 4 minutes until you see floating oil on the masala.

Now, add the fried potatoes to the kadhai. Mix well and add ¼ cups water. Cover tightly with a lid and let it "dum" cook for 5 to 6 minutes on low, continuous heat.

Add: Cream, Sugar, Alco Garam Masala and Alco Kasuri Methi. You can add some water at this stage, depending on the amount of curry you want. Simmer it for three minutes, and then turn off the heat.

Cover tightly with a lid. Let it remain for five more minutes before serving.

Garnish your Dum Aloo with some cilantro.

Serve your Punjabi Dum Aloo with either rice or naan.
Now, if you find the above cooking steps too daunting or you're in a rush, don't worry. You can make equally (if not more!) delicious fish curry with Alco's Aloo Dum Gravy Mix. It gives instant mouthwatering Aloo Dum gravy without you breaking into a sweat working with all the above ingredients.
Besides Alco Aloo Dum Gravy Mix, Alco Foods offers a vast range of masalas and instant gravy mixes. Try our products, and your food will turn out to be next-level delicious!
FAQs on ALOO DUM
What is Kashmiri dum aloo made of?
What is dum cooking method?
Are baby potatoes healthy?
Is it safe to eat potatoes every day?
Do potatoes burn belly fat?
Choosing a selection results in a full page refresh.