GO-TO 15 MINUTES SPICY CHICKEN
Here is a Spicy Chicken recipe for all Chicken lovers. This Gravy tastes great with Rice, Pulav, Chapathi, Poori, Parotta, Dosai, idly, and a lot more. Try it u will Like it.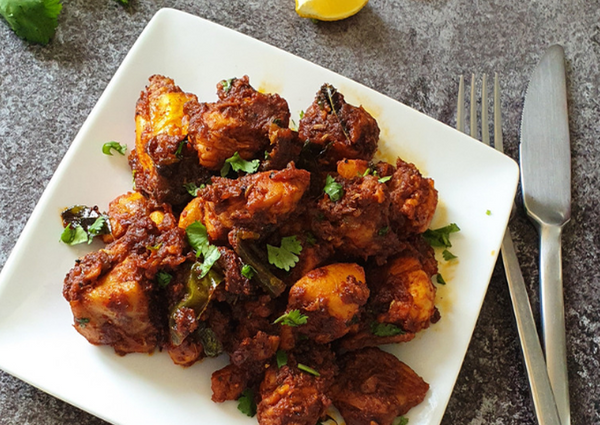 Print Recipe
https://www.alcofoods.com/blogs/recipe/go-to-15-minutes-spicy-chicken
Ingredients for Spicy Chicken
For Marination
2 Tbsp - Curd

2 Tbsp - Turmeric powder
Method for Preparing Spicy Chicken
Step 1. For marination, take a bowl and add chopped chicken, turmeric, red chili powder, yogurt, ginger garlic paste, and salt. Mix the ingredients and keep aside for 10 minutes to marinate well.
Step 2. Take a heavy-bottom pan and add refined oil to it. Heat the oil over medium flame.
Step 3. Mix Butter Chicken

with water and make a paste of thick consistency.

Step 4. Then, put ginger-garlic paste, cloves, red chili powder, coriander powder, cumin powder, and curry leaves.
Step 5. Add thickened Simmer sauce to the pan and cook until oil separates from the gravy, then add marinated chicken pieces.
Step 6. Serve the easy spicy chicken and garnish it with coriander leaves.
It is now easy to make this spicy chicken marinade in minutes with our Butter Chicken Simmer Sauce. Our Spicy Chicken Flavor makes an excellent simmer sauce that goes nicely with easy spicy chicken breast recipes.
Health Benefits of Spicy Chicken
DISCLAIMER- This blog does not provide you with any medical advice. It is strictly meant to be an informational and recipe blog only. Please consult your physician or medical expert on what works best for you.
Chicken contains many nutrients for staying healthy, such as protein, niacin, selenium, and phosphorus. Protein builds tissue and helps to keep muscle mass intact.
May be Good for bone health - Besides being packed with proteins, chicken contains minerals like phosphorus and calcium, which contribute to strong bones. Furthermore, it contains selenium which may help to decrease the risk of arthritis.
May Boost Immunity - Steaming chicken soup may provide relief against colds, the flu, and other common respiratory viruses. The hot steam loosens congestion from sinuses, protecting them from being infiltrated by bacteria or germs that would lead to infection.
May Build Muscles - Chicken has many benefits. It may help build muscles, provide healthy protein, and contains less fat than other meats, which are all positives for people looking to gain or maintain muscle mass.
May Relieves Stress - Tryptophan and Vitamin B5 may reduce stress levels because of their calming effect on the body and may make chicken an optimal food for people experiencing high-stress levels from work or other aspects of life.
May Promote heart health - Chicken is rich in Vitamin B6, which prevents heart attacks. It lowers the levels of Homocysteine, which increases the risk of a heart attack.
Summing Up On 15-Minutes Spicy Chicken
All people love hot and spicy chicken recipes. It's easy to cook with recipes, such as healthy spicy chicken recipes with all the right ingredients. Different dishes come together at Alco Foods - they offer Instant Bowls made from authentic spices and sauces, so you don't have to go through all the trouble of cooking it yourself.
FAQS ON INSTANT SPICY CHICKEN RECIPE
DOES COOKING CHICKEN BREAST TAKE 15 MINUTES OR LESS?
CAN WE OVERCOOK SPICY CHICKEN?
IS IT BETTER TO FRY OR BAKE CHICKEN?
IS IT POSSIBLE TO COOK CHICKEN IN A FRYING PAN?
HOW DO YOU KNOW IF THE CHICKEN IS UNDERCOOKED?
Choosing a selection results in a full page refresh.