FISH CURRY - THE HEALTHIEST NON-VEGETARIAN MEAL YOU CAN ENJOY
Fish curry is a staple food in most Asian countries. Each country/region makes it in various ways. The Indian Fish Curry is satisfying and very nutritious. It's packed with a burst of Indian flavors.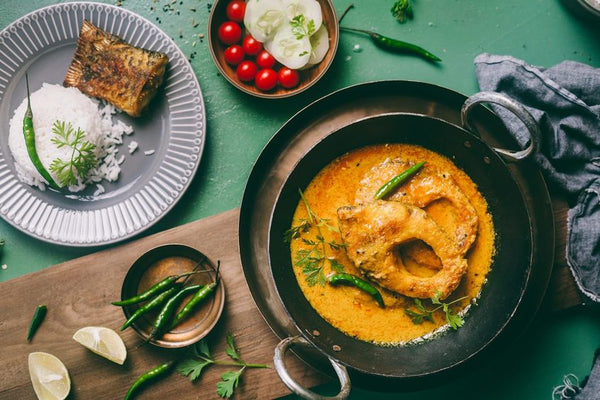 Print Recipe
https://www.alcofoods.com/blogs/recipe/fish-curry-the-healthiest-non-vegetarian-meal-you-can-enjoy
Prep Time - 10 minutes

Cook Time - 30 minutes

Total Time - 40 minutes

Servings - 4
Ingredients
For the Marinade
½ kg - Fish (any firm-flesh fish)

½ tablespoon - Ginger garlic paste

⅛ teaspoon - Turmeric

¼ to ½ teaspoon - Alco red chilli powder

¼ tsp - Salt or as needed
For sautéing
One tablespoon - Oil (adjust as needed)

½ teaspoon - Cumin seeds (jeera)

2 medium - Sliced onions (about 1 cup)

½ tablespoon - Minced ginger garlic (or ginger-garlic paste)

2 - medium chopped ripe tomatoes (¾ to 1 cup chopped)

½ teaspoon - Salt (adjust to taste)

1 teaspoon -

Alco red chilli powder

(adjust as needed)

⅛ teaspoon -

Alco turmeric powder

½ teaspoon - Fennel seeds (saunf; optional)

2 tablespoons - Coconut (grated or ¼ cup coconut milk or 12 cashew nuts)
For the fish curry
1 tablespoon - Oil

1 - Sprig of curry leaves (or a small bay leaf)

1 or 2 - Green chilies (chopped or slit)

1 to 1 ½ teaspoon - Alco garam masala or Alco curry powder (as needed)

1-¼ to 1-½ cups - Water
Cooking Instructions
Preparation
Marinate fish with: ½ tbsp ginger garlic paste, ⅛ tsp

Alco turmeric powder

, ¼ tsp

Alco red chilli powder

, ¼ tsp salt

Heat one teaspoon of oil on a flat fry pan. Fry fish pieces slightly until the raw smell disappears (about 2 to 3 mins on each side). You can also sear the fish. Keep this aside.

Heat 1 tbsp oil in a pot. Add cumin. When it starts sputtering, add the sliced onions. Sauté till they turn light golden.

Add the ginger-garlic paste now. Sauté for about 30 seconds.

Add the tomatoes & ½ tsp salt. Sauté them till they turn soft and mushy.

Add the following: Coconut, Fennel seeds (optional), Alco red chili powder and Alco turmeric powder. Fry till the mixture becomes fragrant, and the raw smell is gone.

Cool this and add to a blender jar along with 2 to 4 tbsps water. Blend to a smooth or coarse paste to suit your liking. You can also use an immersion blender. Keep this aside.
How to Make Fish Curry
Add 1 tbsp more oil to the same pot you used earlier. Heat it on a low flame.

Add the green chilies and curry leaves when the oil turns slightly hot.

When they start spluttering, add the ground onion tomato paste. Add Alco garam masala too. Taste the paste. You can add more chilli powder at this stage if you want more spicy heat or a deeper color to your fish curry.

Saute till the mixture smells good.

Pour 1-¼ to 1-½ cup water and bring it to a boil.

Cook until you see traces of oil on the surface. The gravy should be thicker by now.

Gently slide the fish pieces in. Cook them covered on medium heat.

After 3 to 4 mins, gently flip the pieces to the other side.

Cook until the fish pieces start bulging a bit. This indicates that they are cooked completely.

Taste the curry. Add more salt if needed.

Garnish your fish curry with coriander leaves (optional), if desired.
Now, if you find the above cooking steps too daunting or you're in a rush, don't worry. You can make equally (if not more!) delicious fish curry with Alco's Fish Curry Gravy Mix. It gives instant mouthwatering fish curry gravy without you breaking into a sweat working with all the above ingredients.
Besides Alco Fish Curry Gravy Mix, Alco Foods offers a vast range of masalas and instant gravy mixes. Try our products, and your food will turn out to be next-level delicious!
Notes
If you prefer a smoother gravy, then blend the paste to a smooth texture. You can add more water as needed. Blend it coarsely for a coarse gravy.

The kind of garam masala to use depends on one's choice of gravy. Use a stronger garam masala like

Alco Garam Masala

to add that special touch to your fish curry recipe. Also, make sure to adjust the quantity of masala to suit your taste.
FREQUENTLY ASKED QUESTIONS
How do you thicken fish curry?
Is fish curry healthy or not?
Can I eat cooked fish every day?
Is fish healthier than chicken?
Which fish is best for curry?
Choosing a selection results in a full page refresh.