FIERY FLAVORS: EXPLORING DELICIOUS SPICY CHICKEN RECIPES AND MORE
As someone who enjoys non-vegetarian food, there's nothing quite like indulging in a delicious, spicy chicken dish. Check out these simple yet tasty recipes for spicy chicken that incorporate Alco spices.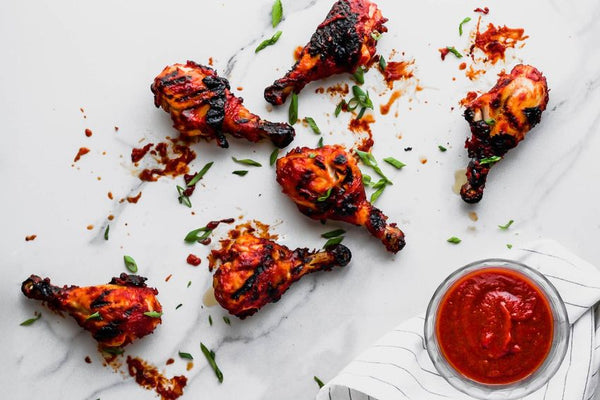 Print Recipe
https://www.alcofoods.com/blogs/recipe/fiery-flavors-exploring-delicious-spicy-chicken-recipes-and-more
Spicy Chicken Curry
Spicy Chicken Curry is a fiery dish that combines succulent chicken pieces with aromatic spices, fiery chili, and rich tomato gravy. It's a flavorsome delight that will leave you craving for more. Here's the recipe:
Ingredients
Instructions
Add the chopped onions when the pan is hot with oil.

Stir in the minced garlic, grated ginger, and slit green chilies when the onions turn golden brown. Cook for a minute until fragrant.

Add the chicken pieces to the pan and cook until they turn brown on all sides.

Mix the spices and salt with water in a small bowl to form a paste and pour it into the pan.

Mix well to ensure the chicken coating is even.

After the chicken gets cooked, add tomato puree. Stir everything together and let it simmer for 10-15 minutes until the chicken gets cooked.

When cooked thoroughly, sprinkle

Garam masala

and let it simmer for a few minutes.

Garnish with fresh cilantro leaves and serve the Spicy Chicken Curry hot with steamed rice or naan bread.
Enjoy the delectable Spicy Chicken Curry, packed with robust flavors and a kick of spice that will tantalize your taste buds!
Spicy Fried Chicken
Spicy Fried Chicken is a lip-smacking dish that features crispy, golden-brown chicken coated in a fiery blend of spices. It's a delicious and satisfying treat that will leave you craving more. Here's the recipe:
Ingredients
500 grams - Chicken pieces, bone-in and skin-on

1 cup - All-purpose flour

2 teaspoons -

Alco Red Chili Powder

1 teaspoon - Cayenne pepper

1 teaspoon - Garlic powder

1 teaspoon - Onion powder

1 teaspoon - Dried thyme

1 teaspoon - Salt

1/2 teaspoon - Black pepper

Vegetable oil for frying
Instructions
Combine the all-purpose flour, paprika, cayenne pepper, garlic powder, onion powder, dried thyme, salt, and black pepper in a large mixing bowl. Mix well to create the spice blend.

Heat vegetable oil in a deep fryer or large skillet over medium-high heat.

Dip each chicken piece into the spice blend, coating it on all sides. Shake off any excess flour.

Carefully place the coated chicken into the hot oil, skin side down.

Fry the chicken for about 10-12 minutes per side or until it turns golden brown and reaches an internal temperature of 165°F (74°C).

Keep the fried chicken aside.

Serve the Spicy Fried Chicken hot with your favorite dipping sauce, coleslaw, and fries.
Indulge in the irresistible Spicy Fried Chicken, boasting a crispy exterior and a fiery flavor that will make your taste buds sing with delight!
Spicy Chicken Biryani
Spicy Chicken Biryani is a flavorful and aromatic Indian rice dish cooked with tender chicken, fragrant spices, and basmati rice, creating a mouthwatering combination that will tantalize your taste buds.
Here's a recipe for Spicy Chicken Biryani:
Ingredients
2 cups - Basmati rice

500 grams - Medium-sized cut chicken

2 - Onions, thinly sliced

2 - Tomatoes, chopped

2 teaspoons - Ginger-garlic paste

2 - Green chilies split lengthwise

1 cup - Plain yogurt

4 teaspoon -

Alco Biryani Masala

A pinch of saffron strands (optional)

1/4 cup - Warm milk (optional)

Fresh cilantro leaves, chopped (for garnish)

Fresh mint leaves, chopped (for garnish)

Cooking oil or ghee

Salt to taste
Instructions
Soak the washed basmati rice in water for 30 minutes, then drain and set aside.

Mix Alco Biryani masala with yogurt (¼ cup) to keep it aside.

Heat oil or ghee in a large bowl to add the sliced onions and cook. Wait till it is until they turn golden brown. Remove half the onions from the pan and set them aside for garnishing.

In the same pan, add the ginger-garlic paste. Wait till the raw smell vanishes.

You can put the cut chicken pieces in the pan to cook.

Add the chopped tomatoes, biryani masala mix, and salt. Mix well and cook for a few minutes until the tomatoes soften.

Reduce the heat to low and add the remaining yogurt to the pan. Cover the pan and let the chicken cook in the yogurt-based masala for 10-15 minutes until tender and fully cooked.

While the chicken is cooking, prepare the rice. Get water to a boil in a large bottom vessel. Add salt and the soaked and drained rice. Cook the rice until it is 70% cooked (still slightly firm). Drain the rice and set aside.

If you want to use saffron, soak them in warm milk for a few minutes until it turns yellow.

Layer the partially cooked rice over the cooked chicken in the pan. Drizzle the saffron-infused milk over the rice. Sprinkle reserved fried onions, chopped cilantro, and mint leaves on top.

Cover the pan tightly with a lid and cook on low heat for about 20-25 minutes, allowing the flavors to meld together and the rice to thoroughly cook through and absorb the flavors of the chicken and spices. Alternatively, place the pan in the oven at 350°F (180°C).

Once the biryani gets cooked, please remove it from the heat and let it sit, covered, for a few minutes to allow the steam to settle.

Gently fluff the rice and chicken with a fork, mixing them. Serve the spicy chicken biryani hot, garnished with fried onions, cilantro, and mint leaves.
Enjoy your delicious and spicy chicken biryani!
Summing Up Spicy Chicken
Like Spicy Chicken Biryani, spicy chicken recipes offer a delightful culinary experience. While indulging in such dishes, it's important to remember that homemade food is the best choice for maintaining a healthy lifestyle. Controlling ingredients and cooking methods ensures nourishment and well-being in every bite.
Thank you for visiting our space for delicious recipes and infotainment. We hope you find something you love! Alco Foods offers a variety of products for you to enjoy, including Premium Pure Ground Masalas, Masala Mixes, ready-to-cook Gravies, Flavoured Cashews (Kaju), and more.
FREQUENTLY ASKED QUESTIONS
How to fry chicken with spices?
What makes chicken taste good?
How to make chicken soft?
Which part of chicken is good?
Choosing a selection results in a full page refresh.