BUTTER CHICKEN RECIPE | 30-MINUTE INDIAN BUTTER CHICKEN RECIPE
Tired of eating bland chicken? Try our Indian Gravy Mix 
to create a mouth-watering simmer sauce in few simple steps.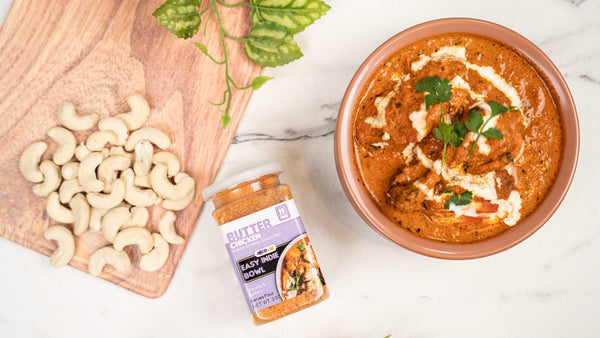 Print Recipe
https://www.alcofoods.com/blogs/recipe/butter-chicken-recipe-30-minute-indian-butter-chicken-recipe
Serves - 4

Preparation Time - 10 Minutes

Cooking time - 20 Minutes
Ingredients for Spicy Butter Chicken
500gms - Cubed chicken

1 Tsp - Salt

2 Tbsp - Butter

2 Tbsp - Ginger-Garlic paste

2 Tbsp -

Butter Chicken Gravy

2 cups - Water

1 cup - Coriander leaves
For Marination
Method-
Place the chicken in a bowl and add salt,

Alco Foods kashmiri chili powder

, curd, and

Alco Foods turmeric powder

. Gently mix these ingredients until they are well-marinated. Let them marinate for 15 minutes. It is better to marinate for a longer duration.

Add the Easy Indie Bowl jar contents, and mix well with water to create the gravy.

Stir fry marinated chicken in the heavy-bottomed pan for 10 minutes.

Add butter to the pan.

Add gravy, ginger-garlic paste, and red chili powder to the pan, and cook on low flame.

Stir occasionally until the sauce has reached desired thickness and flavor for 6-12 minutes.

Garnish with coriander leaves over the top, and serve.
Health Benefits of Chicken Butter Masala
DISCLAIMER- This blog does not provide medical advice. It is strictly meant to be an informational and recipe blog only. Please consult your physician or medical expert for what works best for you.
It May work as an Immunity booster - Doctors commonly recommend chicken soup for recovering from the common cold or influenza because of its many vitamins and nutrients and other things that can strengthen your immune system cells within the body. Its ability to unclog clogged sinuses allows you to breathe freely again.
May Relieve Stress -

Tryptophan and Vitamin B5

are two components of chicken that may help reduce stress. It contains magnesium which may also relieve PMS symptoms. The chicken will surely make you feel at ease after a hard day.

May Help in Losing weight - Chicken is an integral part of a healthy lifestyle because its low-fat content supports dieting habits which means that sometimes eating chicken may help you achieve your health goals.
Rich in protein - Chicken is an essential source of protein, and it is one of the highest sources. Those who wish to gain weight should consume this food item as often as possible because it will aid in muscle growth when eaten at least three times per week.
Keeps bones healthy - To maintain healthy bones, chicken provides protein, calcium, and phosphorus. As an added benefit, it also may lower the risk of arthritis or osteoporosis.
Summing Up On Spicy Butter Chicken
There are many different ways to make Butter Chicken curry. There are no hard and fast rules when cooking this historical food. It is up to you what spices or meats you choose, whether you like yours spicy or mild.
There are a lot of contradictions about what makes up the most authentic butter chicken recipe. Today, instant pot butter chicken has twists and changes across the country, which means its taste and texture also change depending on where you go. Sometimes, it is hard to tell if you are eating an authentic version, but thanks to all the different variations available, we can easily choose the best one that suits our tastes just right.
FAQs on Butter Chicken Recipe
Is Indian butter chicken in a slow cooker covered with liquid?
Cooking crockpot butter chicken requires water or liquid to create steam. The water level should cover the ingredients inside the crock pot.
What are the main ingredients of Murgh Makhani?
Makhani is a rich sauce consisting of onions, tomatoes, cashews, and an assortment of Indian spices. Cashew gives it richness, sweetness, and creaminess, and spices give flavor and aroma. Alco Foods simmer sauce mix has it all.
Is chicken makhani similar to tikka masala?
What separates butter chicken from tikka masala is that one tends to be creamier and sweeter, while the other focuses more on heat and spice.
What are the variations of Indian butter chicken?
There are many butter chicken recipes, such as garlic butter chicken, lemon butter chicken, and honey butter chicken.
Why is butter chicken so delicious?
The perfectly blended mixture of cream sauce, butter, spicy-sweet tomato sauce, and various Indian spices makes for a tasty meal.
Choosing a selection results in a full page refresh.